The most interesting facts about Samuel Eto'o
Published: October 13, 2021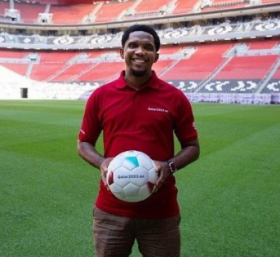 If you are someone who watches football matches regularly or you like to be up to date with everything that happens in
the world of football
, then you must have heard about Samuel Eto'o.
For those of you who don't know who this is, it's safe to say that Samuel Eto'o is one of the best African football players.
Born in Cameroon, Eto'o has made a reputation for himself that most football players only dream of. He played for Barelona in La Liga, but also for Chelsea
in Premier League
and Inter Milan in Serie A.
Moreover, he managed to perform as the striker for his national team, but unfortunately, due to a serious injury, he couldn't play as well as he thought he would.
And even though there is much more information that you can find online about Samuel Eto'o, there are some less familiar and interesting facts about him that hardly anyone knows.

And in this article, we'll take a look at some of those interesting facts.
He Is Also A Writer
Almost all professional sports stars have some kind of exceptional hobby that helps them relax after they are finished with their football practice sessions.

Believe it or not, many football stars like to play casino games at a
$1 deposit casino Canada
with low deposit requirements.
Others like to engage in completely different sports activities like basketball, swimming, or even boxing. However, Samuel has a very specific passion that is completely unrelated to football.

Eto'o is a dedicated writer, who has already completed nine graphic novels that tell the story of his life.

One of the main reasons why he wanted to write in this format is so that even the children could get a copy and learn more about his journey.
Most Decorated African Player
One of the most interesting facts about Samuel Eto'o is that he is the most decorated player from Africa in the history of football.

He has managed to win the African Player of the Year prize four times. Also, in 2005 he came in third for the FIFA World Player award and he won the Africa Cup of Nations twice.
Holds A Record in La Liga
If you ever wondered who is the African player with the most appearances in La Liga, then you should know that the correct answer is Samuel Eto'o.

Even though he is most famous for his time in Barcelona, he also played for other clubs in La Liga. In only 5 seasons he managed to score 108 goals and have over 140 appearances.
A Unique Childhood Nickname
Some people would say that we are all destined for a certain role in life. And in the case of Samuel Eto'o, we can see that from early childhood his connection to the world of football was great.

When he was growing up, people around him used to call him "Little Milla". This was because he was compared to Roger Milla, a great football player from Cameroon. In fact, when Eto'o was little he caught Milla's jersey that the player threw into the audience.
He Dreamed of Playing in France
When Eto'o was just a teenager he wanted to join a French youth team. However, due to the lack of documentation that was required he never managed to make it there.

In the end, he went to Real Madrid, and from that moment on he worked really hard until he ended up playing for Barcelona.
And even though he might have felt like he didn't make it because he never played in the league of his dreams, in the end, it was the French who were at a loss since they missed on an opportunity to have a player such as Samuel Eto'o.
Latest News