Chibueze Christian Simon joins Fukushima United FC
Published: October 20, 2021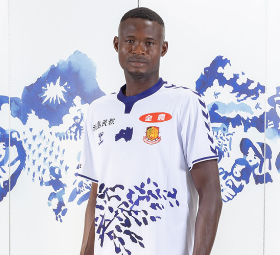 Fukushima United FC announced the transfer of Christian Simon from Bariga Professional FC to the Japanese club. His uniform number is 49.
High expectation set for Nigerian youngster

The 21-year-old Nigerian attacker showed great motivation in joining the club: "I am aware that there was a great senior player from my homeland who did a great job at this club.

"I also want to play something that pushes the club name, Fukushima, to the next level and do great things for the club. I promise to achieve these by fulfilling my responsibilities for the growth of the club.

"To move the club forward with everyone as a family and a team".
Christian Simon is the second Nigerian forward to play for Fukushima United, following in the footsteps of
Origbaajo Ismaila
who moved to Kyoto Sanga FC of J2 League last July.
Ismaila is already known in Japan as a great goalscorer with a nickname of "Kaka" and achieved impressive performance by his second year in Japan.

It is no wonder why Fukushima United's expectation is set high for the young Christian Simon's potential.    
Fukushima United aiming at J-2 League
Fukushima United FC finished 18 games during the previous season and had an expectation for promotion to J2 league with the result of 10 wins, 2 draws and 6 losses.

However, the J2 club license was not granted this time due to insufficient training system for players by the academy team.

The club currently holds 5th place in the league, but even if it finishes this season in 2nd place, the promotion to J2 is still unlikely.
Fukushima United needs to fix the U-18 (18 years old or younger) youth team in place to obtain a J2 club license.

According to Hayato Suzuki, president of the club, the official game of the U-18 team will commence from April next year, and the renovation of the home stadium is being scheduled, so the club is looking at entering J-2 League next year.
J-League clubs facing new challenges
The Japan Football Association, which celebrated its 100th anniversary this year, has set the goal of re-inviting the World Cup to Japan and winning the championship by 2050.

The J-League also aims at becoming one of the world's five major leagues by 2030. However, the league has been hit hard by the coronavirus pandemic and the majority of the clubs are in financial difficulty.

Since sports betting is still largely restricted in Japan, there are no betting firm sponsors like
betway
.  
It will become easier for a club to hold events and activities outside its hometown, and to develop commercial businesses.

Adhering to the principle of hometown, which is close to the community, more than 80% of home games will still be held in respective hometown bases, as per the conventional rules.

But with this measure, the activities and ideas of each club are likely to spread and circulate outside respective hometowns.
Photo Credit : fufc.jp