Play fantasy football and win real prizes immediately!
Published: November 19, 2021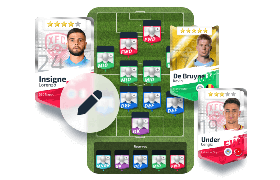 FootballCoin is the daily fantasy football platform that brings you the world's great leagues.

Better yet, FootballCoin rewards users with daily prizes. Join now for free, create your greatest fantasy football draft and get ready to win the game's cryptocurrency, XFC, and trade valuable NFTs.
If you're a football fan, if you love challenging your friends in fantasy football or if, simply, you are excited about the potential of cryptocurrencies and blockchain technology,
FootballCoin
is the very best place for you to be.
The NFT-driven game is the best way to enjoy football and to win daily prizes.
This is what you can expect to find in FootballCoin:
●    Win real money from your passion for football (up to 1.000 euro in everyday prizes)
●    Every single game in the top leagues (Premier League, Serie A, La Liga, Ligue etc.) are hosted in FootballCoin
●    Register for free, play for free
●    Win real prizes when you exchange XFC crypto for real money
●    Buy NFTs of footballers for as low as $3, or use free player cards in the game
●    Buy, Sell and Swap your player cards with other football managers who share your passion
●    Get ready to join the most complex blockchain game on the internet
How to play FootballCoin?
Playing FootballCoin is easy. You'll be a top manager in no time, and the rewards will be yours.
Here's what you need to do:
●    Select a contest representing the world's top leagues
●    Create your fantasy draft that includes 11 players + 5 subs from a list of real footballers
●    See your team's overall score that is based on the players' real-life performances
●    Be part of the top 30% of managers who all win a part of the total prize pool
●    Get ready to win XFC in multiple ways: Playing the fantasy game, investing in quality players, trading and leasing the player NFTs on the FootballCoin market
●    Get ready to take in special competitions that coincide with important football events (e.g. World Cup 2022)
Each FootballCoin contest is a new chance to win. For each contest, managers get to create a brand new fantasy football draft. Use your football knowledge to great effect!
Why choose FootballCoin over every other game on the internet?
●    In FootballCoin you own all of the assets that you collect. This means that you can sell your NFTs at any point for any price you choose
●    FootballCoin includes 11 TOP football leagues including the Premier League, Champions League, La Liga etc.
●    There are daily contests in FootballCoin, so you don't need to worry about missing a single event
If you're a football fan and you want to win great prizes, sign up today and play FootballCoin every day!