Exclusive Interview With Pretty Norwegian - Nigerian Sprint Queen And Chelsea Fan EZINNE OKPARAEBO
Published: August 17, 2012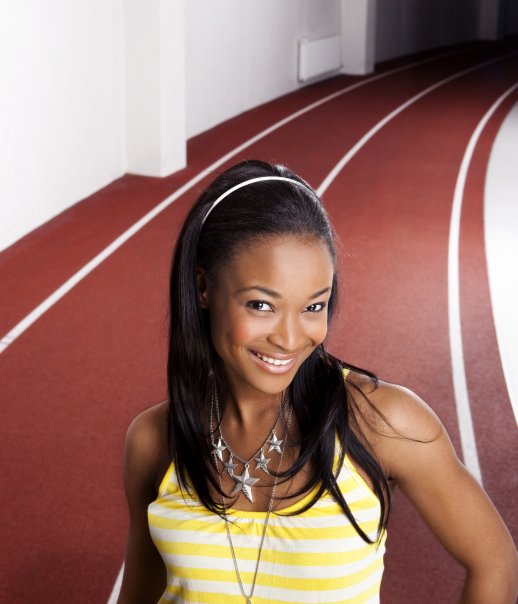 In this interview, Norwegian - Nigerian sprint sensation Ezinne Okparaebo discusses her upbringing, how she got into track and field. She also veered away from her main discipline - athletics - to talk about Football.
Name
: Ezinne Okparaebo
Date of Birth
: March 3rd, 1988
Place of Birth
: Imo State, Nigeria

Many Nigerians had not heard your name prior to the London 2012 Olympic Games. Tell us about your upbringing and your family. Have you been to Nigerian in the last couple of years?Ezinne Okparaebo
: '' I was born in Nigeria. Moved to Norway when I was nine years old, and have been there since. I'm the middle child of five children. I have been back to Nigeria four times after I left. Each time I come back, I feel like people are surprised that I still speak fluent Igbo.''
What is your favorite Nigerian dish? Do you know how to cook any of these dishes?Ezinne Okparaebo
: '' Rice and stew with fried plantain. I do know how to make that and other dishes as well. ''

How did you begin your career in track and field? Who discovered you and did your parents encourage you when you started? Ezinne Okparaebo
: ''I started athletics when I was around 13/14 years old. I was discovered on a school activity day. I was running faster than all the girls and even had better times than some of the boys. They all claimed that they could beat me, but none dared to run against me for fear of being beaten by a girl.''
Breaking the Norwegian National Record in the 100m dash twice in succession at the London 2012 Olympic Game....... Is that the highlight of your career or would you pick the Diamond League event you won in front of your home fans in Oslo this June?Ezinne Okparaebo
: ''I would pick the Olympic Games as the highlight of my career so far. Running in front of 80 000 people is a crazy experience. Knowing that you only have a chance to do things right. The tension is high, but being in that mode is beneficial to me because I used it to bring out the best in me.''

What do you think went wrong with the Nigeria Athletics Team in London, where they returned home empty-handed without any medals? And how can they avoid a repeat of their dismal performance? Ezinne Okparaebo
: ''Nigeria is Africa`s most populated country, so I don't think lack of talents is the problem here. I'm not familiar with how the Nigerian funding system works, but in general to produce world class athletes, an investment has to be made and It has to be a long term investment. Starting from recruiting talents to actually keeping them. To be able to keep them in the sport, the Federation has to invest in the potential medal candidates for the future by funding them so that they are able to eat right, have medical treatment, and to be able to cover their athletics expenses.''
Were you ever contacted by the Athletics Federation of Nigeria in the past to compete for Nigeria. If given an opportunity, would you love to race for Nigeria?Ezinne Okparaebo
: '' I have never been contacted by the Athletics federation of Nigeria, but at the moment things are fine the way it is. Even though I run for Norway I never forget where I have my heritage from.''

Your strengths and weaknesses?Ezinne Okparaebo
: '' My start and acceleration is my strength. Instead of calling it a weakness, I will rather say that I have a development potential which is to be able to train harder, and to also improve the last part of the race. ''
Describe yourself in five words?Ezinne Okparaebo
: '' Positive, ambitious, hard worker, outgoing and focused.
Some commentators picked you as the cutest female athlete of the London 2012 Games. How do you feel getting these accolades?Ezinne Okparaebo
: (laughing) ''Its nice to hear that, but when I'm on the starting line, looking cute is the last thing on my mind. Having focus on that means that I lose focus on my task, which is to run fast and technically well. ''
What endorsement deals do you have?Ezinne Okparaebo
: ''I have Puma and other private sponsors.''

You belong to a Christian Organization called Kristen Idrettskontakt . Could you tell us your role in the body. Are you also involved in charity work?Ezinne Okparaebo
: ''My faith means a lot to me and has helped me through difficult moments. If it is to give a motivational talk to youths in that organization about my experiences, I will gladly do it if I have the time. I also support the organization - UNICEF.''

Two summers ago you were spotted at the Aråsen Stadium with Nigeria Under 23 internationals Anthony Ujah and Nosa Igiebor , was it a chance meeting or you are quite close?Ezinne Okparaebo
: ''Most Nigerians in Oslo or who live close by will know about each other. The city is not too big.''

Why do you think Norway is a haven for Nigerian footballers these days? Ezinne Okparaebo
: '' I think it is because Norway is very good and encourages young talents. And it is easier to be seen by the big clubs.''

Which Nigerian footballer do you think has made the biggest impact in the Norwegian top flight in the last three years? Ezinne Okparaebo
: '' There has been a few, hard to name one. But I wish some could stay longer and improve their skills and talent even more before leaving to a bigger club.''
Which football club do you follow in Norway? And how long have you supported the club? Ezinne Okparaebo
: ''Honestly. I'm not a big fan of the the Norwegian league (Tippeligaen) . But If I watch football, then it would be the English Premier League or La Liga.''

Chelsea, Manchester United, Liverpool or Arsenal. Which of these clubs do you support?
Ezinne Okparaebo: ''I would go with Chelsea for now.''
Which Nigerian footballer would you love to meet? Ezinne Okparaebo
: ''I would love to meet Kanu Nwankwo because he has done a lot in the football world to promote the country, and he is also involved in charity works. I love that. ''
Thanks for your time Ezinne......Ezinne Okparaebo
: ''The pleasure was mine. I had a great time.''
Editor