Vincent Enyeama Refuses To Comment On Bonus Incident
Published: June 17, 2013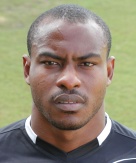 Nigeria skipper Vincent Enyeama has refused to comment on the bonus row between the squad and the Nigeria Federation just few days before the start of the Fifa Confederations Cup.
Speaking at a press conference, the Lille custodian stated: ''
I do not want to talk about it much.
It was not to go to the press.
We just want to play football against Tahiti.

''
The bonus is behind us.
Everything is perfect, everything is back to normal.
We are responsible for our actions, but they were in the past.


''We do not want to spend more energy to talk about it now.
After the championship, we can talk about it.''

The match between Nigeria and Tahiti kicks off at 16:00 hours, which is 8pm Nigeria time.

Photo Credit: maccabi-tlv.co.il