The Growth Of Football Betting In Africa
Published: November 30, 2020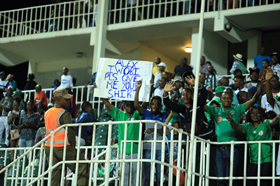 Football is the most popular sport in the world, and on top of that, it is also the most popular betting sport in the world.

Millions of people place bets on games while enjoying the action, and this now stretches to every corner of the globe.  
However, we are seeing one area in particular have a huge growth at the moment and that is Africa. This growth is coming in two different ways.

The first is the number of people betting in Africa, this is certainly improving and much of that is thanks to mobile betting.
The second is betting on African football leagues, with these becoming more accessible, people from all over the world can bet on these if they want.
If these two trends continue for the next decade, Africa will become a giant in sports betting terms.
The Growth of Gambling in Africa
We have seen a
big push from technology
to move the betting industry forward, and few places have seen a growth like Africa thanks to this.
Thanks to this, we now have mobile betting across the world, so those in Africa that have a mobile phone but no computer can now get involved with online betting.

Without mobile betting, these people would be left behind.
For many, mobile betting is a convenient luxury but for some, such as some people in Africa, this is the only way they can bet because they have nothing else to bet with.
If you want to know what we now have a lot of people from Africa placing sports bets, look no further than the technological advancements we have seen in recent years.
The industry has made itself a worldwide service, and then given people the tools they need to play, allowing them to attract far more people than ever before.
Betting on African Football Leagues
We have also seen gamblers from elsewhere turn their attention to betting on leagues that are located in Africa.
Bookmakers have made these leagues a lot more accessible to their players, mainly due to them offering live betting and streaming of selected leagues, including some in Africa.
This is how many people find new places to bet, and how the growth of betting on African football leagues has come around.

While bookmakers continue to add elements like this to their service, smaller football leagues have a place to shine, one they normally wouldn't get.
This is a real chance for all leagues around the world to grab some of the limelight, hopefully the African leagues continue to take it.
What Does the Future Hold?
Many Africans, and Nigerians in particular, continue to impress around the world and eyes will be on them.
However, in the future, don't be surprised to see people looking in to see how the Nigerian league is performing, especially if the betting platform for this league continues to grow.
Football is becoming inclusive, and literally anyone from anywhere can keep up to date with any league they want. The betting industry is helping to drive this, and will continue to do so.
There appears to be no slowing down either, if anything, things are growing quicker than in the past.

Put all of this together and the future looks bright whether you are a gambler in Africa, or one from elsewhere betting on their football leagues.